3/4

4/4

3/4

3/4

1.5/4

3.5/4

3/4

3/4

3/4

2/4

3/4

3/4

3/4

3/4

2.5/4

2.5/4

2.5/4

3/4

3/4

3/4

3/4

1/4

3/4

3/4

3/4

Next 25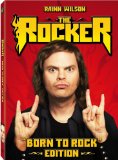 Rocker, The (2008)
This rocker really rocks!
3/4 stars
An advance screening pass to a movie about which I could learn precious little, resulted in a delightful movie experience. Seldom lately have I been able to recommend a "sleeper", but "The Rocker" is a true gem.

Rainn Wilson (Dwight from "The Office") is an aging drummer, bitter over his dismissal from the rock band that eventually became a worldwide sensation. When the opportunity to play in his nephew's band during Prom unexpectedly arises, the two generations clash hilariously.

At times, the movie is slapstick, with Wilson the butt of the joke. At others, just flat out funny. But it's a perfect mix and does not come across as uneven. Likewise, the story has heart, but never approaches too much sentimentality.

"The Rocker" is full of familiar faces in small roles. And Christina Applegate is positively radiant as the tortured lead singer's single mother. The movie flirts with a romance between her and Wilson, but as with every other potential cliche, it shrewdly walks the line without crossing over. That, perhnaps, is what makes "The Rocker" such an unexpected treat.