3/4

4/4

3/4

3/4

1.5/4

3.5/4

3/4

3/4

3/4

2/4

3/4

3/4

3/4

3/4

2.5/4

2.5/4

2.5/4

3/4

3/4

3/4

3/4

1/4

3/4

3/4

3/4

Next 25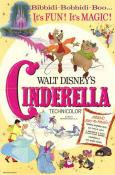 Cinderella (1950)
Re-watching won't turn you into a pumpkin
3/4 stars
Having not seen "Cinderella" since I was a child (just a FEW years ago), I watched it with my niece this weekend. Since the 1950 movie is sort of "grandfathered-ion" as a Disney classic, it's hard to "review" it 58 years later. However, the experience was quite valuable for other, more "current" reasons.

First, I hadn't really thought lately about how many movies and TV shows have come from this story. I'm pretty sure it was not an original story for Disney, but it probably remains the definitive version.

That said, I had forgotten how much the basic story was embellished by Disney. Actual plot points, such as the fairy godmother, the transformation, etc. take up very little screen time. I'm guessing the antics of the mice take up three times the amount of screen time, sometimes to advance the story (at the end), sometimes not (at the beginning).

There are two fairly major plot points that I had also forgotten. The first is that the stepmother and stepsisters do not know that it is Cinderella at the ball. The second is that the glass slipper breaks at the end and Cinderella reveals her true identity only because she has the second slipper. Those points may seem minor, but I don't think they're part of the story that "everyone" knows.

There's something that bothers me about the story in general, not just this movie. Cinderella is too eager to marry someone she doesn't even know. Sure, he's a handsome prince, but who knows if he's a decent person. The myth of the perfect man could perpetuate more heartache for the little girls who love this movie than it's "happily ever after" ending could perpetuate hope.

I know it's a fantasy, but it's a little dated. I don't think too many women find someone to literally carry them away from the drudge of their lives. I think a message that women can do it for themselves without fairy godmothers and magic pumpkins would be more valuable in the long run.