3/4

4/4

3/4

3/4

1.5/4

3.5/4

3/4

3/4

3/4

2/4

3/4

3/4

3/4

3/4

2.5/4

2.5/4

2.5/4

3/4

3/4

3/4

3/4

1/4

3/4

3/4

3/4

Next 25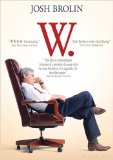 In my eagerness for Oliver Stone to give us a hilarious endictment of our soon-to-be ex-President, I may have overlooked the point he was trying to make. Because, if anything, "W." paints a very sympathetic picture of George W. Bush. Definitely not what I was expecting.

The portrayals of those in the media spotlight for the last eight years range from uncanny (Thandie Newton as Condaleeza Rice) to scary (Richard Dreyfuss as Dick Cheney) to original (James Cromwell as Bush Sr.). But all are heartbreaking considering the devastating real-world results of the decisions they've made.

At the center of it all is Josh Brolin, an unlikely candidate to portray "W.", but, as it turns out, a savvy one. He's simply amazing in a performance that seems to be part impersonation, yet 100% fully-realized character. He (and the movie) seem to have given more thought to creating their imaginary world than their real-life counterparts gave to devastating the real one.

Since the movie ends with the 2004 election, I really think we should have appended a cryptic question mark to the words "The End" that appear onscreen at its conclusion.