3/4

4/4

3/4

3/4

1.5/4

3.5/4

3/4

3/4

3/4

2/4

3/4

3/4

3/4

3/4

2.5/4

2.5/4

2.5/4

3/4

3/4

3/4

3/4

1/4

3/4

3/4

3/4

Next 25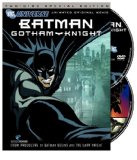 Batman: Gotham Knight
The other Dark Knight
3/4 stars
This exercise in style was quite a disappointment for me.

I imagined a blending of the Dark Knight mythos with an anime sensibility could be quite remarkable. But the resulting product reminded me that no matter how pretty a movie (or TV show) looks, you've still got to have a good story.

These short stories don't cut it. And to be honest, they really didn't look as great as I expected. In fact, this set is mostly forgettable. I think I was generous when I rated it.