2/4

3.5/4

1.5/4

3.5/4

3.5/4

1.5/4

0.5/4

2.5/4

1.5/4

3/4

2.5/4

3/4

1.5/4

1.5/4

0.5/4

3.5/4

2.5/4

3/4

3/4

1.5/4

1.5/4

1/4

3.5/4

3.5/4

3/4

Next 25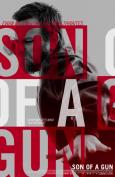 Son of a Gun
Prison break, robbery gold and gangsters
3/4 stars
a 19 year old ends up in prison and meets ewan mcgregor's character who is a tough guy inside with some clout amongst the inmates. he saves the kid from some rapists in order thtat when he gets out he will then break him and his mates out of prison.
cue prison escape guns and then onto a robbery where the kid is now caught up with the big boys and is in over his head or is he?
this is a good film i really enjoyed it. and there's a lot to it. its not just one thing then a robbery then over. there's lots more. and a pretty good ending as well.
its tough and a pretty good story and cast, ewan does a great job as the tough inmate/robber which is not a role i would normally asociate with him but he pulls it of pretty well.
The movie keeps you watching which is always a good thing , you want to know how it ends.