2/4

3.5/4

1.5/4

3.5/4

3.5/4

1.5/4

0.5/4

2.5/4

1.5/4

3/4

2.5/4

3/4

1.5/4

1.5/4

0.5/4

3.5/4

2.5/4

3/4

3/4

1.5/4

1.5/4

1/4

3.5/4

3.5/4

3/4

Next 25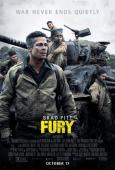 Fury (2014)
unlikeable characters leaves you cold
2.5/4 stars
ww2 war movie starring brad pitt as a tank commander with his battle scared crew who have fought they their way into germany for the closing stages of the war. it starts with one guy kiilled and the replacement for his fury tank is a young inexperienced and soft minded solider for which brad pitts character sets out to harden him up for the battles that lye ahead.
first of the acting is pretty good from all the guys, the main problem i found with this film was none of the characters are likeable at all. except the new recruit , the main guys act backward and half crazy and jus arn't nice people. its hard to root for anybody in this film. the scenes with the german girls just makes you hate them all. and the piano singing and bed thing and the whole scene there really was unrealistic corny and just nasty.
then comes the final stand of between the fury tank and the germans. i didn't find it heroic at all, were the makers of this film trying to make you feel for these guys? and make them out as hero's? cause the stand of was just plain stupid foolish and not heroic at all. , the end music was over dramatic.
i was worried this film would fall into the patriot over sentimental type that we see so often and they bored close a few times. the fight scenes were ok nothing amazing though. the direction could of been better or the editing or both. the main issue is if you dont like the characters and your finding what they are doing to be stupid how can you care what happens to them, you dont and thats the problem with this film.
also a lot of the dialogue was wasted words. no real connection heart to anybody.
as far as films go this one was ok/good its not a bad film at all. it can be classed as good but its in no way a great movie and it should have been a great movie. they took the battle hardned soliders to far and made them act kid of thick and suicidal is not heroic..
worth watching yes. decent good ok film yes. - great film no way. shame as the actors were there but i felt they had little to work with and were chained by the script.