2/4

3.5/4

1.5/4

3.5/4

3.5/4

1.5/4

0.5/4

2.5/4

1.5/4

3/4

2.5/4

3/4

1.5/4

1.5/4

0.5/4

3.5/4

2.5/4

3/4

3/4

1.5/4

1.5/4

1/4

3.5/4

3.5/4

3/4

Next 25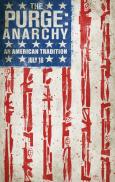 The Purge: Anarchy
Purge 2 ok at best
2.5/4 stars
As a fan of the first purge movie i was pretty disappointed in this one. it was average stuff. and didn't go in the direction i expected or have the same feel to it as the first movie.
if you dont know the story Once a year people are allowed to kill rob do what they like for one night only as a way to stop crime for the rest of the year. the first movie was about the people inside this time the movie is about those outside with a whole country either hiding or out on the streets killing you'd think it would make for a good story. but they seemed to choose a very simple idea as a script than really get into telling a more complex story . the mian problem is the dialogue and the actors. none of which were very good. it just felt cheap and after the first movie it should not have been. the purge idea is a great idea its just a shame they didn't seem to care about making it more real in this movie.
its ok at best something to watch but for me its disappointing.