2/4

3.5/4

1.5/4

3.5/4

3.5/4

1.5/4

0.5/4

2.5/4

1.5/4

3/4

2.5/4

3/4

1.5/4

1.5/4

0.5/4

3.5/4

2.5/4

3/4

3/4

1.5/4

1.5/4

1/4

3.5/4

3.5/4

3/4

Next 25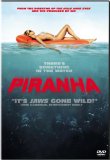 Piranha 3D

2.5/4 stars
The first movie was gory and very well done , loads of great horrific scenes .good movie for its genre
This one is much more about the comedy and is very silly. and the piranha attacks were very poor compared to the first movie. never the less it was enoyable fun with lots of humour.
the hoff was funny and the scene witht he piranha on the guys er tackle was ouch.
entertaining sometimes thats all a movie needs to be.