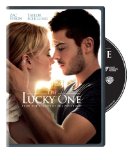 Lucky One, The (2012)
The Lucky One Movie Review
3/4 stars
SPOILER ALERT!

In the latest adaptation of a Nicholas Sparks' novel, "The Lucky One" tells the story of Logan Thibault (Zac Efron), a marine returning home after finishing his third tour in Iraq, who is in search of a woman in a photo he credits with saving his life. The movie opens with an exciting night raid. After the raid, the marines are regrouping when Logan spots a picture in the rubble. He walks over to pick it up and finds a woman looking back at him, on the back the words "Keep Safe". Just as Logan is about to walk back to where he was standing and IED goes off, killing some members of his platoon, while he survives. After several other situations in which he survives but shouldn't he credits his survival to the picture, which he has yet to find the owner of. Returning back to his sister's house, Logan suffers form PTSD while trying to find a purpose in society. Soon he realizes that he has to find the woman in the picture to thank her. He finds out that she lives in Hampton, Louisiana. Arriving at the dog kennel that Beth (Taylor Schilling) runs along with her grandmother (Blythe Danner), he is misunderstood when he is trying to thank her and finds himself taking a job there. As the story progresses Logan meets Beth's son, Ben (Riley Thomas Stewart) and her ex- husband Keith Clayton (Jay R. Ferguson). At first Beth is apprehensive about Logan, but on the anniversary of her brother's death, Beth and Logan become closer over her lose. As their love grows Keith becomes jealous and tries to break them apart with threats to go to court and get full custody of Ben. Beth soon realizes Keith's bluff and tells him back off. After Keith gets a tip off from one his buddies he realizes Logan's reason for coming to Hampton. He breaks into Logan's house and takes the picture of Beth that was her brothers. Angered that Logan would keep something that meant so much to her, Beth breaks things off with Logan. On a stormy night, a drunken Keith tries to get back with Beth, who isn't having any of it. Angered he threatens to take Ben, right then and there, this leads Ben to run off to his tree house in woods. Logan who has come back to explain once again the reason for showing up follows also trying to save Ben. Shaky branches and a worn out tree house leads to the house to fall on Keith just as Ben is rescued. The movie ends with Logan and Beth still together a year later. While the movie plot is great, the filming falls short. Some scenes are cut short and often leave the viewer wanting more. For a movie that has to live up to the success of "The Notebook", it definitely falls short. Though it's not all bad, the scenic background Louisiana offers add to the warm feeling of the movie. Compared to other Nicholas Spark's book to movies, such as "Dear John" and "The Last Song", it definitely lacks charm and depths of characters as well as the situations both Logan and Beth are in. Perhaps cutting out one of the steamy love scenes or the multiple montage scenes and adding in a scene that shows us how truly awful Keith is to Beth and Ben or how troubled Logan is with his PTSD would help. All in all, the love story takes viewers on a beautiful love story of two people who against all odds find love, but fails to deliver the warm fuzzy feeling a viewer should always feel when leaving a romance movie that maybe there is a Logan or a Noah out there for us.