4/4

3.5/4

4/4

4/4

2/4

3/4

1.5/4

1/4

0.5/4

4/4

3.5/4

3/4

2/4

2/4

1/4

4/4

4/4

3/4

4/4

3/4

3.5/4

1/4

3/4

1/4

3.5/4

Next 25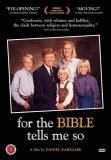 For the Bible Tells Me So
Read the Bible...Actually Read it
3.5/4 stars
Tackling the debate between liberal and conservative Christians, For the Bible Tells Me So is a critical look at the long held belief that the bible condemns homosexual activity. All of the usual readings (Leviticus, Genesis, etc.) are cited by conservative Protestants and Catholics as proof for this claim. However, the truth begins to unravel when several liberal Christians make reference to the time in which the bible was written, mentioning that Jesus himself was silent about homosexuality, and that to interpret Leviticus literally would be fool hardy as it prohibits the eating of shellfish, as well as allowing women to be sold into slavery. Furthermore, the bible has been used to justify the oppression of just about every minority group on the planet.

Of course this film is geared toward a more left-wing audience, but its message is still powerful. It shows the personal stories of several gay Christians and how their devout families responded when they came out. One of the stories is particularly heartbreaking, although discussing here would ruin the film for prospective viewers. Two of the more public figures who share their stories are former House Majority Leader Dick Gephardt (who has a lesbian daughter) and Bishop Gene Robinson (the first openly gay bishop in the Episcopal Church). Each story sheds light on the struggles that LGBT people face, with a climactic final scene at the offices of Focus on the Family, led by Dr. James Dobson, one of the founders of the anti-gay industry.

This film tackles a very important subject and challenges one of the most powerful institutions in our nation: conservative Christianity. It provides several well spoken rebuttals to the belief that homosexuality is amoral. Its stories are heartbreaking and uplifting at the same time. Like most films on the subject, it pleads for tolerance. However, what makes it successful is the vast biblical knowledge the liberal Christians possess, each of them clearly an expert. It's point-counterpoint style is very effective and makes for one of the best films on the subject.