4/4

3.5/4

4/4

4/4

2/4

3/4

1.5/4

1/4

0.5/4

4/4

3.5/4

3/4

2/4

2/4

1/4

4/4

4/4

3/4

4/4

3/4

3.5/4

1/4

3/4

1/4

3.5/4

Next 25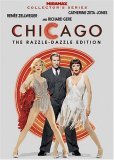 Chicago (2002)
A Great Musical
3.5/4 stars
As someone who finds most musicals to be nauseating and annoying, I wasn't expecting much from this movie, despite the fact that it won the Best Picture Oscar. However, I thoroughly enjoyed it and found the songs to be very catchy and clever. Certainly one of the better musicals I have ever seen.

The level of talent needed to make a film such as this one is very high. The cast does not disappoint, with some great performances from Catherine Zeta-Jones and Renee Zellweger. I must admit to not being a very big fan of Zeta-Jones, but she is simply incredible in this film, which showcases her immense talent in singing, dancing, and acting. She certainly deserved her Best Supporting Actress Oscar for this performance.

This film is also a great commentary about the court of public opinion, which as seen in the film, can be just as important, if not more important than the court of law. It shows our appetite for sensationalism and fascination with criminals as we turn them into celebrities. Chicago is such an effective film because it brings these things together with some fine performances.