4/4

3.5/4

4/4

4/4

2/4

3/4

1.5/4

1/4

0.5/4

4/4

3.5/4

3/4

2/4

2/4

1/4

4/4

4/4

3/4

4/4

3/4

3.5/4

1/4

3/4

1/4

3.5/4

Next 25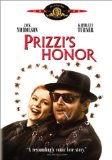 Prizzi's Honor
Good Mafia Spoof
3/4 stars
Prizzi's Honor is a fun mafia comedy with a fine cast, exemplified by Anjelica Huston as Maerose Prizzi, who won the Best Supporting Actress Oscar for her performance. Jack Nicholson is a natural as mob hit man Charley Partanna, and Kathleen Turner as the beautiful, but deadly, Irene Walker.

One of the film's strengths is that it spoof's the violence of many mafia films. Each instance of violence is brief and nearly bloodless. The audience is aware that they are watching a comedy and not a mafia classic in the vain of the Godfather films. In addition, its use of classical music gives it an over the top feel in terms of drama, further adding to the comedy.

Director John Huston puts together a well made film overall, but with some noticeable weaknesses. The opening ten minutes are painstakingly dull and could have been shortened. The frequent cross country flights from New York to Los Angeles are also quite corny and over the top. But, overall the film is enjoyable and a fun two hours or so.