3/4

4/4

3.5/4

2.5/4

3.5/4

3.5/4

1.5/4

3.5/4

3.5/4

3.5/4

2.5/4

3.5/4

2.5/4

2/4

4/4

2/4

4/4

2/4

1.5/4

2/4

2.5/4

2/4

3/4

3/4

3.5/4

Next 25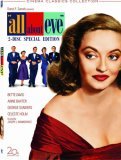 All About Eve
All About Eve
4/4 stars
Brilliant! A classic film; absolutely fantastic. All About Eve is a film about a young woman named Eve (Baxter) who aligns herself into the life of aging actress Margo Channing (Davis) and ultimately schemes herself into the theatre spotlight. I really liked it.

The screenplay is one of the best of all time, perfect in every way. It has sort of a unique and modern flair to it, making All About Eve memorable and timeless. The performances were wonderful, also, especially Betty Davis. All About Eve garnered a total of 5 Oscar nominations for the cast; after viewing the film it's clear why. Anne Baxter, George Sanders, Celeste Holm, Gary Merrill, and Hugh Marlowe all give great performances. This was also my first Marilyn Monroe film; she has a minor role.

Nominated for an astounding 14 Academy Awards and winner of 6 including Best Picture, Best Director, and Best Screenplay, All About Eve is a classic piece of cinema that is a must-see. I cannot recommend this film enough.