3/4

4/4

3.5/4

2.5/4

3.5/4

3.5/4

1.5/4

3.5/4

3.5/4

3.5/4

2.5/4

3.5/4

2.5/4

2/4

4/4

2/4

4/4

2/4

1.5/4

2/4

2.5/4

2/4

3/4

3/4

3.5/4

Next 25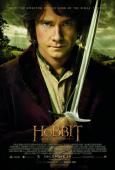 The Hobbit: An Unexpected Journey
The Hobbit: An Unexpected Journey
3/4 stars
A lot of fans, including myself, were taken by surprise when reviews of An Unexpected Journey were mixed to positive at best. People questioned Jackson's decision to return to Middle Earth, and even more questioned the decision to expand the film into 3 films. Now that I've seen the film multiple times, I am confident that Peter Jackson is the only person I trust that can bring Middle Earth to life on the screen. An Unexpected Journey is a highly entertaining and satisfying tale but not without a few flaws. Two of the big problems I had with the film were the slow beginning and heavy use of CGI. This film takes its time in the early moments, but the film as a whole doesn't drag. The Hobbit relies heavily on computer generated orcs/creatures unlike LotR; I personally found the CGI to be poor at times, it really takes you out of the film during certain scenes.

Flaws aside, this is an entertaining adventure and fully satisfying return to Middle Earth. Jackson's vision remains the same, Ian McKellen, Cate Blanchett, Christopher Lee, Hugo Weaving, and Andy Serkis return, New Zealand's beauty shines, and Howard Shore's (excellent) musical score ties everything together by reminding us that we have in fact returned to ME. On top of that, Martin Freeman joins as Bilbo and we have a dozen dwarves to meet; not all of the dwarves are fully realized characters, but they're very entertaining and we have two more films to get to know them better. Freeman is the heart and soul of this film, I really could not have imagined a better fit for Bilbo.

2 films would have sufficed to tell this story, imo. As a fan of Tolkien, I enjoyed all the additions to the film, it really makes it obvious where the trilogy is going, but this first film suffers a bit because it lacks its own real narrative, but I am beyond excited for where the next films are going to go.

In short, The Hobbit 1 is not as good as LotR. It feels bloated at times in the beginning due to a lot of backstory/additions to the story and a strong dependence on cg effects, but it is a wonderful return to Middle Earth and will satisfy fans of the original trilogy.