3/4

4/4

3.5/4

2.5/4

3.5/4

3.5/4

1.5/4

3.5/4

3.5/4

3.5/4

2.5/4

3.5/4

2.5/4

2/4

4/4

2/4

4/4

2/4

1.5/4

2/4

2.5/4

2/4

3/4

3/4

3.5/4

Next 25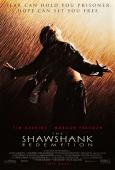 The Shawshank Redemption
The Shawshank Redemption
4/4 stars
Outstanding! Brilliant! One of the best!
1994 will definitely reign as one of the strongest years for cinema during past few decades. Pulp Fiction, Shawshank, Forrest Gump....it was up against some brilliant films. But this film is very special. It's touching unlike so many other films. With themes of hope, friendship, and courage, this film will touch me more and more no matter how many times I watch it.
Strong performances, again, by Morgan Freeman and Tim Robbins. Great, incredible, brilliant, masterpiece of a film!