2/4

3.5/4

3.5/4

0.5/4

3/4

3.5/4

2/4

2/4

3.5/4

3/4

2.5/4

3/4

3/4

0.5/4

3/4

0.5/4

3/4

3.5/4

2/4

1/4

3/4

3/4

3/4

0.5/4

3.5/4

Next 25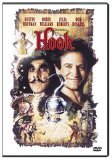 Hook (1991)
Skip it and watch the Disney version
2/4 stars
If there's one classic that I think has the most potential to be a masterpiece, Peter Pan is it. Disney did an admirable job with their animated adaption, and Dave Barry and Ridley Pearson have written a marvelous book series about Peter Pan. Hook, unfortunately, isn't nearly as good as it should be. It's silly premise, lack of comedy, and long length this a considerably lesser Pan-tale.

Peter Banning has long since forgotten his childhood as Peter Pan, and is now a middle-aged lawyer who puts work before family (and is severely afraid of heights to boot). But when his kids, Jack and Maggie, are kidnapped by Captain James Hook, Peter is forced to remember his life at Neverland, and learn to best Hook and save his children.

One of Hook's many problems is that it's a children's movie. Much of Hook will only appeal to the younger crowd, and the extensive running time (nearly two and a half hours) and it's slow, crawling pace will leave most children bored out of their minds.

The action is extremely minimal until the end, in which a battle against the pirates and the Lost Boys ensues, which mostly consists of dull slapstick. The humor is also extremely childish. It seems most everything in Hook is geared toward the youngest of children. Yet, as I just mentioned, it has an ominously long run time, which diminishes the film's audience to, well, no one.

It's such a shame too, because Hook might've been a decent film. There was a lot in Hook that I loved, and had Hook played it's cards right, this could've been the Peter Pan film I've been waiting for. Alas, the few elements of Hook that I enjoyed are vastly overshadowed by it's many flaws.

The premise is awkward, and even a bit confusing. The awkwardness is mostly due to the fact that Peter Pan is a middle-aged lawyer. Talk about shattering your childhood dreams. No one wants to see Peter Pan as an adult. His naive perspective of life and staying young is part of what made Pan so appealing in the first place. With Pan being all grown up, much of what made him such a loveable character is gone.

One rather tasteless scene that's worth pointing out occurs during Pan's dinner with the Lost Boys in which a rather grotesque and childish series of name calling occurs. In addition to names like "Mucus Muncher" and "Zit Popper," there are many others not worth repeating. As sorry as I feel for those who watched this scene (including myself), I am much more sorry for the actors that had to memorize these obscene names, as well as the writers who had to come up with them.

The score by the consistently incredible John Williams is perhaps a bit under-par. It's not bad, but it's not quite as good as William's other scores. The score isn't playful enough, nor is it grand enough. Compared to William's other film scores, it's a bit of a disappointment, but it's still mostly solid.

The acting is something of a mixed bag. No one does a poor job at acting, but there are problems, regardless. Robin Williams plays Peter Pan. This is a problem as Peter Pan is no longer a boy, he is now a man. This is a completely different version of Pan, so the actor needs to leave a completely new imprint. Unfortunately, Robin Williams is too big a star for this part, so instead of remembering Peter Pan as a confused and loving father, we remember him as Robin Williams.

Dustin Hoffman, on the other hand, blends excellently as Hook. When we see Hook, we don't see Hoffman. I'm sure the wig and makeup helped, but Hoffman is considerably less recognizable then Robin Williams, which makes his role much better. Hook, as a character, is already one of the better parts of the film, with his subtle elements of satire and humor, and this is aided even further by Hoffman's performance.

Julia Roberts, on the other hand is severely miscast as Tinker Bell. Most other actors do decent, yet not outstanding jobs, though Bob Hoskins performs amusingly as Hook's assistant, Smee.

This different take on Peter Pan fails to find an audience. It's too long for kids, too slow and devoid of action for teens, and too childish for adults. I wanted to like Hook, but it misses the mark as an action film, a comedy, and a family film. It tries to be too much, and it ends up being nothing at all.