3.5/4

3/4

3.5/4

1.5/4

2.5/4

3.5/4

2.5/4

3/4

2/4

3.5/4

3.5/4

2.5/4

1.5/4

0.5/4

3.5/4

4/4

2.5/4

1.5/4

3/4

3/4

3/4

1/4

3.5/4

3/4

3/4

Next 25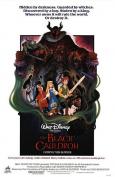 The Black Cauldron
Quite Possibly, Disney's Worst Animated Film
1.5/4 stars
I never thought Disney could get it so wrong. But they did. The Black Cauldron is quite possibly, the worst film to come from the house of mouse. It's aggressively un-Disney, but unfortunately, that works against this shockingly awful fantasy film.

The Black Cauldron is a story about a young boy named Taran who wants to be more than a pig-keeper. His wish comes true, though, when it turns out that his pig, Hen-Ren can predict the future and create visions. Taran is told by his master Dallben to go into hiding with Hen-Ren, in order to protect the location of the mystical Black Cauldron from the Horned King. On the way, Taran meets a young princess named Elionwy, an old musician named Fflewddur, and a cowardly ewok-like creature named Gurgi.

I knew this film was doomed as soon as I learned the pig was psychic.

The characters, unfortunately, are neither memorable, nor likeable. Taran is always drowning himself in his sorrows, Elionwy is an obvious stereotype, Gurgi fails to evoke laughter, and The Horned King's tiny assistant is easily the most annoying cartoon character ever depicted.

Had I not seen the Disney logo preceding the film, I would never have guessed The Black Cauldron was a Disney film. It's surprisingly dark, and there isn't much humor. In fact, the few times there are attempts at humor, they usually fall flat. I don't recall ever laughing during The Black Cauldron.

Another typically uncharacteristic thing about The Black Cauldron, was how dull it is. I never found myself thrilled, but I was constantly bored. The Black Cauldron just cannot excite the audience in the slightest.

Regardless, Elmer Bernstein provides a very good score, even if it takes a bit to warm up.

But The Black Cauldron is, at least, a visual treat. Many effects are simply stunning. The animation is wonderful, especially for a film of it's age. It's just a shame that there wasn't a decent movie to accompany the visuals.

Disney is usually reliable when it comes to their animated films, so it was certainly shocking to see a Disney film this bad. It's too dull, the characters are annoying, and the logic of the film is constantly changing. Outside of the lovely visuals (and an occasionally lively score), there isn't much to recommend in The Black Cauldron.