3.5/4

3/4

3.5/4

1.5/4

2.5/4

3.5/4

2.5/4

3/4

2/4

3.5/4

3.5/4

2.5/4

1.5/4

0.5/4

3.5/4

4/4

2.5/4

1.5/4

3/4

3/4

3/4

1/4

3.5/4

3/4

3/4

Next 25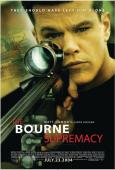 The Bourne Supremacy
Better Than The First
3/4 stars
There is one thing I appreciate about The Bourne movies more then anything else about them. And that is that they exist not only to make money, but to be a good movie. There are a lot of action franchises, such as Pirates of the Caribbean and Sherlock Holmes, that only exist to make money. They can be entertaining, but there's not a lot of thought put into them. The Bourne series tries to be a good movie, and they, for the most part, succeed.

Of course, the two films I've seen thus far in the trilogy have not been without flaws. Far from it really. But they are entertaining, at the bare minimum, they have a plot, and well-defined characters. The Bourne Supermacy, like it's predecessor is not perfect, but it's trying.

The Bourne Supremacy still contains the key plot elements from the first film: Jason Bourne is trying to learn more about his past, there's a plot to find and kill him, and utter confusion for both parties. The twist is that Bourne is being assumed for a crime he didn't commit (the murder of two agents). Once again, the similarities to the 90's The Fugitive are present, but I've delved into that in my previous review of the first film. In short, The Fugitive does a much better job.

The Bourne Supremacy sports believable acting, much like the first. Action movies are famous for laughable dialogue and stiff acting, but The Bourne Supermacy has neither. Matt Damon performs very well for this episode in the Bourne trilogy. The rest of the actors also perform well, but it's pointless to compliment each actor individually.

The action is considerably better in this sequel than in the original. Also, there are some very good chase scenes (there were chase scenes in the first, but they were quite dull to be honest), even though some of the automobiles seem a little too indestructible.

There's even some well-needed emotion that wasn't present the last time around.

The score, however, is less than satisfactory. The percussion is much too loud and overpowering, often annoying. Some of the instrument choices are questionable (including one instrument that we hear twice that resembles the belch of an obese couch potato), and many of the themes feel a little lost. Also, there are some jarring similarities to the superior Pirates of the Caribbean score.

Also, the girl we see sleeping with Bourne at the beginning of the film is Marie from the first film. I tell you this, because I would not have recognized her if my companion had not told me so. Her hair is blonde, she looks different (she's wearing more makeup) and she even SOUNDS different.

It doesn't make too much of a difference, though, because she dies within twenty minutes of the film's opening. And this brings up a major flaw of this movie: Bourne doesn't have a partner. In one respect, this works better because now Bourne is free to move at his own pace. However, this gives Bourne a little less personality, and it makes certain parts of the film feel a little empty.

One scene at the beginning is near a stand with tons and tons of Lays brand potato chips, all the labels facing the screen. It would be hard to believe that there wasn't some sort of pay-off here.

Also, there's a completely unnecessary scene that occurs in a club. There are some skimpily dressed women and it just feels so thrown in. This scene was literally added just for male appeal, and it disgusts me that this was thrown in just because guys like to see half-naked women. Really? It's unnecessary and tasteless. I digress.

Lastly, The Bourne Supremacy doesn't feel completely connected to the first film. That's not to say it contradicts the first, but I feel confident that someone could watch The Bourne Supermacy with no knowledge of the first film and completely understand what was going on.

The Bourne Supremacy is just as good as the original, and maybe just a bit better. There's problems to be sure; irritating score, unnecessary club scene, and the fact that the seeing the first film isn't even necessary for viewing this sequel. But the fantastic cast, great action and chase scenes, and some actual emotion more than make up for it's shortcomings.