1/4

2/4

2.5/4

2.5/4

4/4

3/4

4/4

2.5/4

2.5/4

2/4

4/4

3.5/4

4/4

3.5/4

3/4

2.5/4

3/4

3.5/4

2/4

4/4

3/4

3/4

3/4

4/4

4/4

Next 25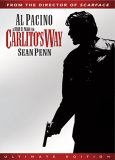 Carlito's Way
not scarface but very good
3.5/4 stars
Pacino is gangster that just got out of jail. He sees that gangster way of life is not good and wants to quit. However that want be so easy and that is because he was huge drug dealer and probably killed many. - Good plot.
However i wasnt that convinced by Carlito. Too much for gangster i think. But this will take only half star from movie because:
Its extremly interesting, intense, well shot, and never boring. I also liked how it reminded me of film noir, with narrative style, that worked really well. And Pacino is good.
Its not 4 star gangster masterpiece because of reason i stated up there and possibly because screenplay could be kind of more epic, like goodfellas or scarface. But very good.