2/4

2/4

2.5/4

2/4

3.5/4

2.5/4

2/4

2.5/4

2/4

2/4

2/4

3/4

3/4

3/4

2.5/4

2.5/4

2.5/4

2.5/4

2/4

2.5/4

2/4

2.5/4

3/4

3/4

2.5/4

Next 25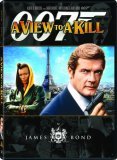 A View to a Kill
World Domination...again
2/4 stars
Roger Moore as James Bond 007 is assigned to investigate millionaire industrialist and race horse owner who MI6 suspect is selling critical microchip information to the Soviets. Chris Walken is terrific as Max Zorin, a purebred Nazi baby all grown up into a charming and suave, yet sinister and psychotic madman. He plans on flooding Silicon Valley in California thus allowing him to corner the microchip market.

Zorin's accomplices are a former practicing Nazi, Dr. Carl Mortner (Willoughby Gray) and, a tall, muscular, and ferocious woman, MayDay (Grace Jones), a woman so athletic that her jump from the highest platform of the Eiffel tower is truly one of the most memorable action scenes. She added an unusual element to the movie which almost helps me to block out Tanya Robert's excruciating Bond girl, geologist Stacey Sutton who manages to set the woman's movement back 30 years with her scream queen efficiency. She embodied the damsel in distress most of the time... although she looked amazing, her screaming "James" every other second got really annoying and during Zorin and Bond's climactic fight on the Golden Gate Bridge, one almost wishes that she might have gotten thrown off instead!

Nevertheless it is still a good thrill ride and I especially liked the scene where Zorin is talking to James Bond (in his wealthy St. John-Smyth character) and he is reading about Bond on the computer, while they talk about horses.