2/4

2/4

2.5/4

2/4

3.5/4

2.5/4

2/4

2.5/4

2/4

2/4

2/4

3/4

3/4

3/4

2.5/4

2.5/4

2.5/4

2.5/4

2/4

2.5/4

2/4

2.5/4

3/4

3/4

2.5/4

Next 25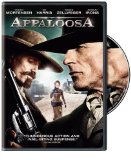 Appaloosa (2008)
Is love worth dying over?
3/4 stars
Virgil Cole (Ed Harris) and Everett Hitch (Viggo Mortensen) are both peacekeepers who have been upholding the law for the past dozen years. Killing outlaws is their job, and they travel on to find more scum to kill. They come to a town called Appaloosa which is terrorized by a gang of thugs led by a cretin by the name of Randall Bragg (Jeremy Irons). The gang buys food without paying, mess up bars, etc... but nobody dares to stand up against them. Harris and Mortensen are hired by a couple of businessmen in town to liberate the city of this blight.

Enter the Allison "Alley" French, a widow seeking comfort in the form of a new husband. Later we find out that her character will pretty much bed down with the nearest alpha-male no matter who he is. She plays the piano, chews her food nicely, smells good and takes a bath every night before she sleeps so her roving eye doesn't stop Virgil from falling in love with her. Poor Everett—she comes on to him as well, and he won't tell Virgil, although her complex character eventually reveals itself to the naïve Virgil.

In his opening narration we find out that he met Virgil by chance when he rode up on him in the middle of a fight with some men, and Everett protected him. Through that random encounter they became best friends and their loyalty to each other is thicker than blood. Renee Zellweger didn't impress me, although Viggo was great as Virgil's 8-guage shotgun toting deputy. This is a solid drama involving friendship tested, love uncertain, and choices not easy to make between justice and revenge.