2/4

2/4

2.5/4

2/4

3.5/4

2.5/4

2/4

2.5/4

2/4

2/4

2/4

3/4

3/4

3/4

2.5/4

2.5/4

2.5/4

2.5/4

2/4

2.5/4

2/4

2.5/4

3/4

3/4

2.5/4

Next 25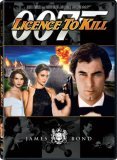 License to Kill
"The enemy of my enemy is my friend."
2.5/4 stars
The plot is rather different from that of the standard Bond film as Bond goes after a ruthless South American drug lord Franz Sanchez, who threw his American colleague and good buddy Felix Leiter to the sharks and murdered his wife.

Bond resolves to seek revenge on Sanchez, but the American authorities seem uninterested, and Bond is ordered not to pursue the matter by his superior, M. So Bond defies orders from Her Majesty's Secret Service, leading M to revoke his license to kill and continues on his personal vendetta but unlike any of his previous missions, Bond is now an outlaw, no longer working for the government, so the criminals he is pursuing are not the only ones who are against him!

The Bond girls forever a staple of the series are suitably glamorous and inevitably succumbs to Bond's charm and Robert Davi plays the heavily accented nasty drug baron. The action scenes are terrific (if a bit improbable), like one plane fishing for another in midair in the pre-credits teaser, and a fleet of drug-loaded 18-wheelers on a twisty mountain road. And of courseit is great to see Benicio Del Toro in one of his early screen roles.