2/4

3/4

2/4

3/4

2/4

3/4

2/4

4/4

2/4

2.5/4

2.5/4

2/4

2/4

2/4

2/4

3/4

2/4

2.5/4

2/4

2/4

2/4

3/4

2.5/4

2.5/4

3/4

Next 25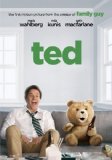 Ted
There's something about Ted!
3/4 stars
Mark Wahlberg plays John, a lonely little boy who wants a BFF but instead gets a teddy bear Ted for Christmas. He makes a wish on a falling star that Ted could talk and become his best friend and the 8-year-old wish comes true and becomes a popular story across the world.

We later catch up with the 35 yr old John who is now in a long-term relationship with Lori (Mila Kunis) but when things get out of control, (in a scene involving Ted, 3 women and feces) he faces a dilemma: he must choose between his girlfriend or his foul-mouthed teddy that he loved and been living with for 27 years. To complicate matters we have Giovanni Ribisi as a freaky lifetime stalker of Ted who wants to 'own' Ted for his overweight son which leads to more amusing scenes.

This movie is rated R for a reason with lots of the F bomb, drug references and a fair amount of potty humor. It is not a kidsí movie and would probably be the dirtiest Teddy bear movie you'll ever see in your life, but if you like Seth Mcfarlane, Family Guy then youíll have a blast watching this fuzzy teddy bear.