2/4

3/4

2/4

3/4

2/4

3/4

2/4

4/4

2/4

2.5/4

2.5/4

2/4

2/4

2/4

2/4

3/4

2/4

2.5/4

2/4

2/4

2/4

3/4

2.5/4

2.5/4

3/4

Next 25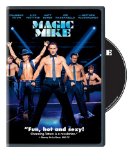 Magic Mike
Three words: Channing Tatum and Stripping!
3/4 stars
I am sure by now all the ladies have heard about the latest light porno flick, Magic Mike starring Channing Tatum's, a movie where every woman's fantasy comes true and we got to see Channing Tatum do what he does best, DANCE….

For those of us in the dark, Mike plays an entrepreneur by day and an exotic dancer by night at Xquisite, a club which is owned and ran by Dallas (Matthew McConaughey). Alex Pettyfer co-stars as pretty boy Adam, a 19 year old former high school football star who just moved to Florida to live with his sister Brooke (Cody Horn), after losing his college football scholarship. Adam later meets Mike at a club and secures himself a regular job there. He is seduced by the carefree life of nonstop parties, drugs, alcohol, sex and easy money which doesn't sit well with his sister. Meanwhile Mike begins to fall for Brooke and longs for a way out to pursue his dream as a furniture designer.

The countless shots of chiseled abs, bare bottoms, pelvic thrusts, Channing Tatum's six packed hot bod, and good- looking men gyrating their bodies and stripping down to their G- strings is sure to have women of all ages drooling but the movie also touches on issues such as drugs and dreams of a better life.

This one is for the ladies, so leave your men at home, get out with your girlfriends and you'll have a smashing great time!