2/4

3/4

2/4

3/4

2/4

3/4

2/4

4/4

2/4

2.5/4

2.5/4

2/4

2/4

2/4

2/4

3/4

2/4

2.5/4

2/4

2/4

2/4

3/4

2.5/4

2.5/4

3/4

Next 25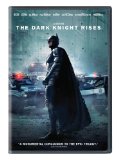 The Dark Knight Rises
"There's a storm coming, Mr. Wayne...
3/4 stars
"There's a storm coming, Mr. Wayne, you and your friends better batten down the hatches, 'cause when it hits, you're all going to wonder how you ever thought you could live so large, and leave so little for the rest of us."

The story begins eight years after 'The Dark Knight' with an aging and crippled Bruce Wayne. Assuming the blame for the death of D.A. Harvey Dent, the Dark Knight sacrificed everything he and Commissioner Gordon both hoped was the greater good and is in self-imposed exile in his gloomy Wayne manor talking only to his loyal servant Alfred (Michael Caine).

But everything seems to fall apart when a sexy but mysterious jewel thief named Selina Kyle, with feline tendencies, has been wreaking havoc in Gotham and even worse, a terrorist named Bane (Tom Hardy) and his underground army begins to terrorize Gotham with robberies and explosions. This means Bruce Wayne has to come out of hiding and return as Gotham's caped crusader for once and for all!

Wayne goes to Lucius Fox(Morgan Freeman) to get some new gadgets and this time Batman rides the Bat, a flying vehicle that moves like its namesake.

The film gets right into the action, setting up the calculated, cold-hearted character of Bane (Tom Hardy) early on, with a magnificent mid-air stunt that will literally leave your jaw on the ground. He looked huge, threatening, imposing and just out right terrifying although his mask, resembling something out of Alien, prevents us from seeing him speak and at times you can't even understand what he's saying through his microphone. Nevertheless it's a fascinating duel of brawn in contrast to the duel of the mind between the Dark Knight and the Joker.

Anne Hathaway's cat woman is sexy, stylish, athletic and cool. Marion Cotillard as Miranda Tate is understated and plays an important role as the only woman after Rachel Dawes that Bruce Wayne cares about while Blake (Joseph Gordon-Levitt) plays the savvy Officer Blake who tries to uphold justice and save the world. Cameo appearances include Liam Neeson in a flashback and Cillian Murphy sitting at the head of a kangaroo court.

The entire timeline of the film seemed a little too long with a run time of 2 hours 45mins but the background score is outstanding which is always expected from Hans Zimmer.