2/4

2/4

2.5/4

2/4

3.5/4

2.5/4

2/4

2.5/4

2/4

2/4

2/4

3/4

3/4

3/4

2.5/4

2.5/4

2.5/4

2.5/4

2/4

2.5/4

2/4

2.5/4

3/4

3/4

2.5/4

Next 25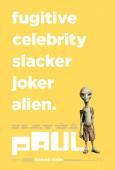 Paul
A fun comedy for fans of comedy and sci-fi!
3/4 stars
Simon Pegg and Nick Frost are two straight guys who take a long-awaited trip to San Diego for the Comic Con festival. On their way across the country, they encounter a foul-mouthed, smoking alien dude (voiced by Seth Rogan) named Paul who having been used by the government for knowledge (including advising Steven Spielberg on 'E.T') has outlived his usefulness and is looking to get back to his mothership.

Sci-fi fans will get a real kick out of this, as there are a number of references to sci-fi movies, both famous and obscure. With a secretive government official named Lorenzo Zoil (Jason Bateman) along with two other bumbling detectives hot on their tails, and the fanatical father of a young woman that they accidentally kidnap, 'Paul' maintains the laughs until the end, with plenty of Pegg and Frost's subtle British humor as well as some genuinely sweet moments with the obnoxious yet loveable Paul.

Look out for a cool cameo of Sigourney Weaver and a decent supporting role from Kristen Wiig playing a Bible obsessed Christian Ruth Buggs with an overbearing father, a problem with her left eye, and a stubborn belief in intelligent design that is shaken when she sees Paul. The inventive swearing got a little tiresome after a while but it is still worth a watch.
Keep in mind that it has adult humor, swearing, sexual references etc. so not suitable for the kiddies.