2/4

3/4

2/4

3/4

2/4

3/4

2/4

4/4

2/4

2.5/4

2.5/4

2/4

2/4

2/4

2/4

3/4

2/4

2.5/4

2/4

2/4

2/4

3/4

2.5/4

2.5/4

3/4

Next 25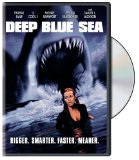 Deep Blue Sea (1999)
It isn't nice to mess with Mother Nature!
2/4 stars
A group of scientists headed by Medical biologist Susan McAlester (Saffron Burrows) conducts experiments on three sharks in hopes of finding a cure for Alzheimer's Disease. However when Corporate big-shot Russell Franklin (Samuel L. Jackson) threatens to withdraw his funding the good doctor invites him to come to the underwater facility to inspect their work. But things turn deadly when the sharks develop intelligence as a side effect and wreak havoc on all involved. The trio of sharks has only one thought in mind: freedom to escape from the confinements of their watery prison (and hopefully munch on some human beings along the way) Who will live? And who will bite the dust?

There's something for everyone in Deep Blue Sea, whether you want shocking horror, Saffron Burrows half naked, sharks eating people or just plain fun. LL Cool J is the ex-preacher turned cook with a parrot for a best friend who gives the sharks a hard time, while Tom Jane, is the "macho" shark tamer.

Check your brain at the door, get the popcorn going and and you'll have a good time.