2/4

3/4

2/4

3/4

2/4

4/4

2/4

2.5/4

2.5/4

2/4

2/4

2/4

2/4

3/4

2/4

2.5/4

2/4

2/4

2/4

3/4

2.5/4

2.5/4

3/4

2.5/4

2.5/4

Next 25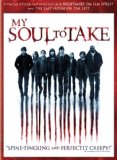 My Soul to Take
Never quite reached its potential!
2/4 stars
Wes Craven returns with a the teen slasher film that tells the story of a mild mannered family man Abel Pankow (Raul Esparza) battling multiple psychotic personalities who realizes that one of his schizophrenic personalities is The Ripper who has been terrorizing the sleepy town of Riverton. His mysterious disappearance after an ambulance accident set tongues wagging and elevate his cult status into an urban legend that the evil soul of the Riverton Ripper had entered into the body of one of the seven babies who were born the night he supposedly died.

Flash forward sixteen years later and we find that the Riverton Ripper legend is a celebrated holiday amongst the young teens. When a murderer begins to hunt down and kill the 16 year old members, the obvious suspect is the disturbed teenager Bug (Max Thierot), who discovers to his horror that he is possibly the son of the Riverton Ripper. Further suspicion is cast in his direction, particularly when he happens to be in the woods near town at the same time his two friends are knifed to death. As each member of the Seven is killed, Bug's apparent guilt increases begging the question: Has 'The Ripper' returned home or is there a crazy copycat on the loose?

Great opening but there was absolutely no character development, no plot thickening or climax.