2/4

3/4

2/4

3/4

2/4

3/4

2/4

4/4

2/4

2.5/4

2.5/4

2/4

2/4

2/4

2/4

3/4

2/4

2.5/4

2/4

2/4

2/4

3/4

2.5/4

2.5/4

3/4

Next 25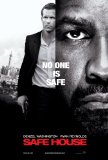 Safe House (2012)
The Not So Safe House lol....
3/4 stars
"You wanna be the guy that lost Tobin Frost…tick tock…tick tock…."

"Everyone betrays everyone!"

"The truth is too messy…keeps 'em up nights"

Matt Weston (Ryan Reynolds) is a low-level CIA agent manning a seldom-used safe house in Cape Town. His life is boring and routine until they bring in one of the Agency's most wanted, rogue CIA agent Tobin Frost (Denzel Washington) to interrogate.

Frost however is the target of mercenaries, and when they attack the safe house, all hell breaks loose and Weston is forced to go on the run with Frost and figure out what the heck is going on in the grimy world of espionage and corruption.

Denzel is his usual brilliant self and Ryan was terrific as the rookie CIA agent tasked with looking after the older more experienced Washington.

There's nothing new or groundbreaking about the movie, but what I found exciting is the rookie character's development, and his interaction with the veteran played by Denzel Washington. An exciting adrenaline pumping, action packed thriller with multiple twists and turns. Exceptional performances from Brendon Gleeson and the leads but I was expecting much more from Vera Farmiga.