2/4

3/4

2/4

3/4

2/4

3/4

2/4

4/4

2/4

2.5/4

2.5/4

2/4

2/4

2/4

2/4

3/4

2/4

2.5/4

2/4

2/4

2/4

3/4

2.5/4

2.5/4

3/4

Next 25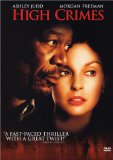 High Crimes
High Crimes
2.5/4 stars
Claire Kubik (Ashley Judd) is living her dream-life. She and her husband (James Caviezel) seem to really love each other and she is enjoying success at work as a lawyer. But then her husband is arrested and charged for heinous war crimes that took place years ago in El Salvador.

She leaves everything behind to try to acquit her husband of these charges. Her defense team includes sister Jackie (Amanda Peet), rookie Marine advocate Lieutenant Embry (Adam Scott), and washed up councilor Charlie Grimes (Morgan Freeman) who is wrestling with his own demons.

Together, they try to uncover the truth behind the incident about what really happened in Latin America all those years back. But along the way Claire's faith in her husbandís innocence begins to falter as a few disturbing truths come to light.

An enjoyable thriller that was partly ruined by the over-done ending; Freeman, of course, is always a delight to watch!