2/4

2/4

2.5/4

2/4

3.5/4

2.5/4

2/4

2.5/4

2/4

2/4

2/4

3/4

3/4

3/4

2.5/4

2.5/4

2.5/4

2.5/4

2/4

2.5/4

2/4

2.5/4

3/4

3/4

2.5/4

Next 25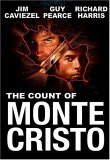 Count of Monte Cristo, The (2002)
Caviezel strikes again!
3/4 stars
After being framed for treason by his close friend, Edmond Dantes (James Caviezel),is thrown in a prison, where he is tortured for many years. His daily contact with the outside world is when a slot opens in his door and food is dropped into the plate. For fun, the sadistic warden marks the anniversary of Edmond's incarceration by whipping him unconscious. As time passes Edmond turns more and more inward and begins to lose his grip on sanity. Then his floor springs upward and out crawls a much older prisoner Abbé Faria (Richard Harris) who thought he had been tunneling to the outside cliffs.

In exchange for his silence and his assistance, the old priest begins to teach Edmond things about reading, writing, and money. Edmond cleverly escapes from jail, along with his "man" Jacobo (Luis Guzmán), who he spared in a fight. A determined man, he returns to civilization while posing as a mysterious count, bent on revenge upon all those who framed him. An engaging performance from the Guy Pearce who is wonderfully wicked as his nemesis Fernand Mondego (He has such a snotty way of talking, you want to smack him.)

This movie has characters you fall in love with, empathize with, and loathe -- it is a compelling story, and contains friendship, hatred, betrayal, and finally the sweetest of revenge.