2/4

3/4

2/4

3/4

2/4

4/4

2/4

2.5/4

2.5/4

2/4

2/4

2/4

2/4

3/4

2/4

2.5/4

2/4

2/4

2/4

3/4

2.5/4

2.5/4

3/4

2.5/4

2.5/4

Next 25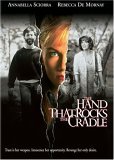 Hand That Rocks The Cradle, The (1992)
Vengeance is Mine!!
2/4 stars
Claire (Annabella Sciorra) and her husband Michael (Matt McCoy) hire Peyton Flanders (Rebecca De Mornay) as their new nanny who seems to be perfect. Little do they know that Peyton is out to ruin the family, especially Claire, who claimed Peyton's husband molested her, which led to his suicide and to Peyton's miscarriage when she found out the shocking news.

Things get creepy as the nanny manipulates Claire into banishing a simple minded handyman Soloman (Ernie Hudson) from the house and destroys her relationship with her best friend Julianne Moore who plays the feisty, bitchy, Marlene. Not contented with that she plans to seduce Micheal and take Claire's young daughter as well as her newborn baby to replace her own baby, the one she lost after her husband's suicide.

I watched this movie a few years ago; caught it today on the TV and thought it held up well over the years. I still believe Rebecca De Mornay and Annabella Sciorra gave great performances as a psychotic nanny and an asthmatic housewife respectively. Not bad and worth a onetime watch at least just to see De Mornay as the dangerous "outsider" who even breastfeeds Claire's infant in her quest for vengeance.