2/4

3/4

2/4

3/4

2/4

3/4

2/4

4/4

2/4

2.5/4

2.5/4

2/4

2/4

2/4

2/4

3/4

2/4

2.5/4

2/4

2/4

2/4

3/4

2.5/4

2.5/4

3/4

Next 25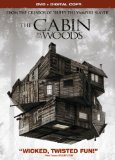 The Cabin in the Woods
Don't go down those stairs!
2.5/4 stars
The setup is all too familiar--a bunch of good looking college kids journey to an isolated cabin in the woods for a weekend of booze, sex and partying and are subsequently put through hell. They are the familiar stereotypes - an oversexed gorgeous jock (Chris Hemsworth), his sex-starved girlfriend who just dyed her hair blonde (Anna Hutchison), the intellectual (Jesse Williams); a paranoid stoner with the retractable bong (Fran Kranz) and a sweet girl almost a virgin (Kristen Connolly). But what's different is that the group is actually being watched the whole time. They're not being watched by some serial killer in the woods or anything like that, but rather via surveillance cameras by an entire company including two mysterious men in white lab coats (Bradley Whitford and Richard Jenkins)--but why?

~~~Warning: Spoilers ahead~~~

We later find out that there is a giant facility full of werewolves, zombies, giant snakes, monsters etc run by an army of supporting staffers and technicians working to influence the proceedings and eliminate our likeable cast. Nothing in this film is quite what it seems. There's even a cameo from Sigourney Weaver playing a variant on her AVATAR character.

Recommended for those who want to see attractive young people getting killed creatively in a rustic, natural setting!