3.5/4

3.5/4

2.5/4

2.5/4

2/4

2.5/4

2/4

2/4

3/4

3.5/4

3/4

3/4

2.5/4

4/4

3/4

2/4

2/4

2.5/4

3.5/4

3.5/4

3/4

2.5/4

3.5/4

2/4

2/4

Prev 25 | Next 25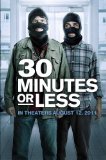 30 Minutes or Less
Banks and Bombs!
2.5/4 stars
Jesse Eisenburg plays Nick, a deadbeat pizza delivery boy who has to deliver the pizza in 30 minutes or less, otherwise it's free of charge and taken out of his paycheck. It becomes tricky when the orders are placed outside of the proper delivery radius but his mad driving skills help to make this work. On one particular drop off he encounters the idiotic duo of Dwayne and Travis, played by Danny McBride and Nick Swardson who are tired of being poor losers and want to open a tanning salon that will front for a prostitution ring.

The two come up with a hare brained scheme to acquire enough cash to hire an assassin (Michael Peña) to kill Dwayne's dad, a hardened Vietnam veteran, portrayed by Fred Ward so he can inherit the rest of his dad's 10 million dollar lotto win to start their project. So they kidnap Nick, strap a bomb on him and force him to rob a bank. The price for Nick's freedom is $100,000 which Nick must deliver in 10 hours or less or the bomb explodes. After much nervous deliberation, Eisenberg enlist the help of his loyal Indian pal Chet, (Aziz Ansari) a hard working, law abiding teacher who just want to be successful and whose twin sister Nick has a crush on. The two set out to rob the bank and save Nick's life with hilarious results.

This movie ended way better than a real life incident that took place on August 28th 2003 where a pizza delivery man (Brian Douglas Wells ) was forced to rob a bank with disastrous results.

I really enjoy these action comedy hybrid types and the rapport between the cast was very good. Disengage your mind and you'll have a blast watching this one.