2/4

2/4

2.5/4

2/4

3.5/4

2.5/4

2/4

2.5/4

2/4

2/4

2/4

3/4

3/4

3/4

2.5/4

2.5/4

2.5/4

2.5/4

2/4

2.5/4

2/4

2.5/4

3/4

3/4

2.5/4

Next 25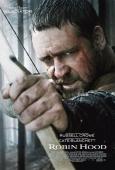 Robin Hood (2010)
Robin Longstride
2.5/4 stars
"Robin Hood" is not really focused upon the legend of the outlaw; it's more about the beginning of Robin Hood, tracing back his story, how he *became* an outlaw. I think this was a disappointment for a great many people who wanted to see Robin and his merry men robbing the rich and giving to the poor while dodging the sheriff of Nottingham.

The story opens with the military campaign between France and England who have been fighting one another since before the age of the dinosaurs. At the helm is Richard the Lionheart, back from the Crusades and fighting to take Normandy from his adversary King Philip of France. Richard falls in battle, failing to return to English soil. Robin a disillusioned soldier is looking for something to believe in a new cause if you will. He stumbles across a group of knights carrying Richard's crown and stallion. All the knights are slain in an ambush, but with a dying breath one hands Robin his sword and begs him to return it to his home in England and give it to his estranged father.

Robin returns the sword to the man and meets the man's widow, Lady Marion Loxley. But the elder Loxley (Max von Sydow) has a plan. In order that Marion hold onto their lands after his death, Sir Walter proposes that Robin stays on and pretend to be his prodigal son, thus giving hope to the impoverished village. He agrees, partly, I suspect, because he's attracted to Marion.

Russell Crowe plays Robin Longstride, the man who returns from the crusades and ends up a legendary outlaw. he does a good job despite probably being a little old for the part. Kate Blanchet is marvelous as Lady not "Maid" Marion I loved her witty attitude and enjoyed the performance of Max as Sir Walter Loxley as well.