2/4

2/4

2.5/4

2/4

3.5/4

2.5/4

2/4

2.5/4

2/4

2/4

2/4

3/4

3/4

3/4

2.5/4

2.5/4

2.5/4

2.5/4

2/4

2.5/4

2/4

2.5/4

3/4

3/4

2.5/4

Next 25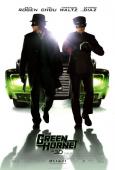 The Green Hornet
Entertaining, but nothing special or remarkable!
2/4 stars
Britt (Seth Rogan) is the bored playboy son of rich newspaper owner, James Reid (Tom Wilkinson). With no discernible talent for anything other than living the high life, drinking, womanizing and enjoying well made cappuccinos from his father's car mechanic, Kato (Jay Chou). When his father mysteriously dies, Britt takes over from him. Knowing next to nothing about running a paper or a household Britt alienates everyone but the enigmatic Cato who is skilled in weaponry, cars, and martial arts.

Deciding that doing nothing is boring (duh), Britt decides he will do something heroic by inventing his own superhero. What follows is a kind of bromance between the two characters who are soon crime busting and getting closer to the truth about his father who may have been on the take. Throwing in Lenore Case as a new assistant (Cameron Diaz) to provide a vague love interest, although neither character has any chemistry with her despite the ructions she supposedly causes.

This isn't one of those films that is not unbearably bad, in fact it can be pretty fun at times. And we even have crime, which was provided by actor Christoph Waltz in the role of the evil Chudnofsky although the character played is not as great as his Colonel Hans in "Inglorious Basterds". Cameos by James Franco and Eddie Furlong (John Connor from 'Terminator 2' as a meth dealer) as Chudnofsky's victims are both spot-on. Seth Rogan plays the same stoned loser that he usually plays, if you like Rogan, you'll like him here.