2/4

2/4

2.5/4

2/4

3.5/4

2.5/4

2/4

2.5/4

2/4

2/4

2/4

3/4

3/4

3/4

2.5/4

2.5/4

2.5/4

2.5/4

2/4

2.5/4

2/4

2.5/4

3/4

3/4

2.5/4

Next 25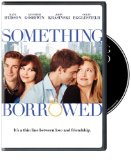 Something Borrowed
Is it ok to betray a really bad friend?
2/4 stars
Luke Greenfield's romantic 'comedy' has more comedy than romance and I was chuckling and laughing out loud at many of the scenes throughout although I think the more expected reaction was a sniffle or two. But what's not to chuckle about a guy Dex (Tom Cruise look-a-like, Colin Egglesfield), who cannot decide if he should marry his longtime fiancée Darcy (Kate Hudson) or break it off and be with the one he truly loves Rachel (Ginnifer Goodwin). Oh Decisions, decisions!

The two girls have been best friends since forever. Rachel is a lawyer who grew up watching the overbearing Darcy get everything she wants. Darcy has even managed to get herself engaged to Dex, the guy Rachel had a crush on since law school. Meanwhile, Darcy is trying to pair Rachel off with a moronic player named Marcus (Steve Howey), which shows just how little she thinks of her friend. It's kind of hard to feel any kind of sympathy for the lead characters who seem very shallow. Riddle me this, why does good guys always finish last?

John Krasinski steals the show as Rachel's writer friend Ethan who is just too sweet and loyal to be true. He is the voice of reason among this group of idiots who seemed to be oblivious to everything around them .….I choose you Ethan.