2/4

2/4

2.5/4

2/4

3.5/4

2.5/4

2/4

2.5/4

2/4

2/4

2/4

3/4

3/4

3/4

2.5/4

2.5/4

2.5/4

2.5/4

2/4

2.5/4

2/4

2.5/4

3/4

3/4

2.5/4

Next 25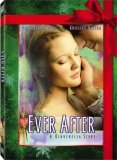 Ever After: A Cinderella Story
Enchanting & Fun
2.5/4 stars
"You swim alone, climb rocks, and rescue servants. Is there anything you don't do?"

Drew Barrymore is Danielle de Barbarac, the feisty, tomboyish daughter of a French nobleman who prepares for a new family when he marries the Baroness (Angelica Huston), a snooty blue blood with two daughters of her own. Tragic circumstances occur and our heroine is forced into servitude by her stepmother but despite the odds Danielle grows up into a strong-willed young woman with tremendous wit, resourcefulness and courage. Her masquerade as a noble is a selfless one, designed to save a fellow servant from imprisonment.

Her outspoken nature attracts Prince Henry of France and they begin to spend more time together, until he finds out who she really is, of course. Huston makes a truly vile stepmother with her own agenda for the Prince's romantic future and is deliciously wicked. I particularly liked the awful stepsister Marguerite, nice to see the bad girl as a blonde and the heroine a brunette.

I will be the first to admit I am a true sucker for this type of old-fashioned, romantic movie where our heroine is industrious and independent. This Cinderella needs no rescuing, in fact she rescues her Prince Charming - There is no Fairy Godmother who turns her into a magical creature who is then admired by all. She is quite capable of doing that on her own. This is a very good wholesome movie with good morals and values that is fit for the whole family to see.