3/4

4/4

3.5/4

4/4

3.5/4

4/4

4/4

1/4

3.5/4

2/4

3.5/4

4/4

2.5/4

4/4

4/4

4/4

4/4

2.5/4

3.5/4

2.5/4

3.5/4

3.5/4

3/4

1/4

4/4

Next 3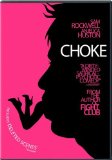 Choke
(Insert witty title here)
3/4 stars
Chuck Palahniuk is far and away my favorite writer. I've read Choke 3 times now, and love it more and more each time. I think if I had not read the book, I would have LOVED this film. Unfortunately, the movie is NEVER as good as the book, so I was left wanting more. The ending was quite a bit different, and while that initially irked me, I realize now that the book's ending would have SUCKED in live action. I think Clark Gregg (and I might be in the minority here) did a great job with this film, considering how low budget it was.

Choke is one of my favorite books, so I will always be critical of the film...I could just tell how much information they were trying to cram into a 90 minute movie.

I'm ready for a film adaptation of Palahniuk's book Survivor now....I just want to see the Nebraska Porn Pile!