3/4

1/4

2.5/4

4/4

2.5/4

0.5/4

0.5/4

4/4

3/4

3/4

1/4

1/4

3/4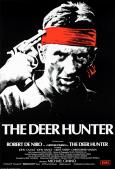 The Deer Hunter
Amazing performances but too damned long.
3/4 stars
This is a great movie, but it's hampered by a painfully long run time.

Cutting the wedding reception scene by about 30 minutes could move The Deer Hunter into my top 50, but an hour long first act (prologue?) is just too much to make this movie one of my all time favorites.

One of the most suspenseful movies ever made if you can make it to the second act without falling asleep.

It's so good, but at the same time, almost unwatchable.