1.5/4

1.5/4

3.5/4

2.5/4

1.5/4

2/4

1/4

4/4

2.5/4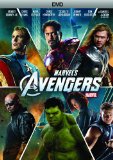 Avengers, The (2012)
Avengers Stand Together
4/4 stars
Marvelís The Avengers (ASSEMBLED!) is a daring, ambitious and absolutely genius concept for cinema. Introducing the main characters with their own films building up to a mega-sequel that brings them all together is something that has never been done, because whoíd have thought it would have worked? Without trying to sound like a pretentious film-goer, the average casual film fan does not have the time, capacity or patience to take in all that content, limiting the eventual audience to nerds Ė both of the film variety and of the comic book variety.

When the first trailers were released last year I was excited, but I also suspected that the project would fail. The two Iron Man films were great and successful enough, but they had Robert Downey Jr to sell them. Thor was a good throwaway film, but it didnít reach the mass audience because both the character and the actor playing him were not well-known. Captain America was also decent enough, but it was banking on America vs. Nazis to sell it. The Incredible Hulk Ö well. Anyway, the point is Robert Downey Jr is still the draw and by far the biggest star with the next ones up being Sam Jackson (supporting character) and Scarlett Johansson (no prior film). Not that this affects quality, but this was an ambitious concept that will be judged by the money it makes.

But yes, long story short, fuck all that jazz. US Opening Weekend of $207 Million and last time I checked $384 Million gross worldwide so far. The experiment worked and then some, and more importantly it delivered what will likely be the most kick-ass movie of the year. Coming into it as a sceptic I am delighted with how it has turned out and it has a lot to do with the director, Joss Whedon. Iíd like to echo a statement made by many before me: If The Dark Knight is the best superhero movie of all time, Marvelís The Avengers is the best comic book movie of all time.

What I found most out-there about this film was that it never tried to be its own film. The villain was taken from the Thor movie, most of the plot was established in the Iron Man films, and of course the main four had their own movies prior to this. The Avengers could have explained who Captain America is, what S.H.I.E.L.D is, where Thor and Loki came from, etc, but they didnít, they demanded you go back and watch the other films. That is very brave as once again the casual film viewer does not have the patience to do that, they just want to watch the big blockbuster and be done with it. Iím sure when people come to judge it theyíll be a lot of mentions of how it doesnít work as a ďstandalone filmĒ because it doesnít sufficiently explain certain things, but this was never supposed to be standalone so that isnít a legitimate criticism, sorry guys!

[SIDENOTE: Saying this, you could probably skip The Incredible Hulk. It really doesnít matter. You know who Hulk is, save yourself the time. Speaking of which, they did an incredible job (pun sorta intended) with the Hulk. Itís been proved many times that the character canít carry a film as the solo main character, but he was really a standout when sharing the screen with the rest of the heroes.]

It did have all the generic blockbuster stuff that I often cringe at; all the characters appear beaten for two minutes before making a comeback, etc, but they are kind of compulsory. I know I couldnít take half an hour of explosions without some comic relief bits intertwined, Iíd go insane. Whedon though made considerable effort to make things different; where other blockbusters will dwell for sake of DRAMAH! Whedon abridges, for example. I donít want to go into a tonne of detail as I donít want to spoil things, but definitely watch out if youíre judging as a filmmaker or writer.