3/4

3/4

2.5/4

3.5/4

3/4

2.5/4

3/4

3/4

3/4

3/4

N/A

N/A

3/4

N/A

3.5/4

3/4

3.5/4

N/A

2.5/4

2.5/4

2.5/4

3/4

2.5/4

2/4

3/4

Next 25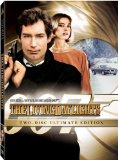 The Living Daylights
"The Living Daylights" by Yojimbo
3/4 stars
When several members of the "Double O" division are found assassinated, a KGB defector implicates a senior figure in the KGB.

Timothy Dalton takes over the role as James Bond and the result is an immediate upturn in quality. Although the script was originally written for Roger Moore whose tenure rapidly declined from the camp to outright farce, the misogyny, casual racism and general vulgarity have been suitably toned down making for a rather more mature outing for 007. Dalton's Thespian roots mean he has a much greater range than his predecessor and although he lacks the charisma of Connery, he adds dramatic weight in his more rebellious yet sensitive portrayal; his relationship with co-star Maryam d'Abo is also far more reminiscent of From Russia With Love than Moore's crude womanising. There are still moments of inappropriate humour with which its star clearly seems uncomfortable, but compared to the excesses of most other action films of the 1980's, The Living Daylights seems positively restrained.

It seems positively quaint in comparison to the latest instalments in this post-Bourne era, but was probably the best Bond film since Sean Connery's departure.