1/4

4/4

3/4

2.5/4

3.5/4

4/4

3/4

3.5/4

4/4

4/4

1.5/4

2/4

3/4

4/4

2.5/4

3/4

4/4

3/4

4/4

3/4

1/4

1.5/4

3/4

3.5/4

2.5/4

Next 25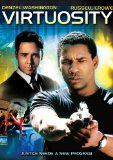 Virtuosity
It's Like Mario coming to life
2.5/4 stars
As you can see on my profile page. I'm no fan of Crowe. However, this movie was pre-Crowe before he really became Crowe...? I guess.

I enjoyed this movie. I think I actually went to see it in theaters (don't I know how I got in because at that time I was only 14).

The idea was great. And for a 14 year old boy....nothing would be better than to have the opportunity to see computer images in real life (especially when you play a lot of video games.)

Very good special effects for the time it was made. Enjoyable story and action....even pace of the flick.

One of the weaker points of the movie was Kelly Lynch....I just couldn't get her character really. Didn't feel it at all.