1/4

4/4

3/4

2.5/4

3.5/4

4/4

3/4

3.5/4

4/4

4/4

1.5/4

2/4

3/4

4/4

2.5/4

3/4

4/4

3/4

4/4

3/4

1/4

1.5/4

3/4

3.5/4

2.5/4

Next 25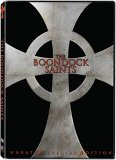 The Boondock Saints
Shepards
4/4 stars
Ahhh...Troy Duffy's 'one-hit-wonder'; and I hear he's a complete a-hole too.

Jerk or not, the man made a great movie in all aspects of great.

Great cast: Sean Patrick Flanery (Powder, Suicide Kings) has a decent range in the roles he plays. He always puts a little curve in regards to the parts he has. Norman Reedus (Blade II) I really didn't much about before this movie, but I dig him and would like to see him in a lot more. Willem Dafoe (so many movies to list), great pull of talent to bring Willem in to this film. The entire cast works together so well, you can't help to just think it's natural.

The story brings about a good topic. Does violence counter violence? Can evil acts in the name of good rid us of evil? Is it justified? Or is it just vengeance? What are the boundaries of the law? Can there be law without order?

Not overly violent; and where it is violent it's well shot and cut. It's an action movie and it's not.

Very well cut together and it's form of story telling it great.

Musically, I'm still kicking myself for not having found or purchased the soundtrack because it's great. Could not think of any better choices than the ones they have.

All in all.....Give the movie a chance and watch it.