1/4

4/4

3/4

2.5/4

3.5/4

4/4

3/4

3.5/4

4/4

4/4

1.5/4

2/4

3/4

4/4

2.5/4

3/4

4/4

3/4

4/4

3/4

1/4

1.5/4

3/4

3.5/4

2.5/4

Next 25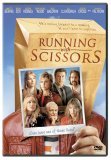 Running With Scissors
You'll poke an Eye out
2.5/4 stars
I don't know exactly where to go with this movie....because I don't know really where it went.

Don't get me wrong though, I did really enjoy the movie....I just don't know what to think.

There was a lot going on where there wasn't quite a lot of story really. No real conflict/solution type of plot going on.

But where it lacked in "closure"...it made up for with GREAT characters.

Each character was different and had their own quirks and it made for a very off-the-wall movie with interesting people played by very capable actors.

A recommendations with you want to see just how many different type of characters can actually exist in a movie and compliment each other very very well.