1/4

4/4

3/4

2.5/4

3.5/4

4/4

3/4

3.5/4

4/4

4/4

1.5/4

2/4

3/4

4/4

2.5/4

3/4

4/4

3/4

4/4

3/4

1/4

1.5/4

3/4

3.5/4

2.5/4

Next 25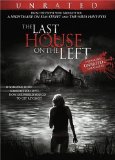 Last House on the Left, The (2009)
Technically 2nd to last house on the left now.
2.5/4 stars
Now, don't get me wrong; I think Cravens original from '72 can't be touched...and this still holds true. When I first saw the original '72 version it was just plain out disturbing. It was not at all what I was expecting but makes me understand how this was one of the films that makes Craven, Wes Craven.

The 2009 remake took it's artistic license to cater to a newer, more modern, more inpatient crowd needing a little more action, cast members, and fights. I would give this movie 3 out of 5, just because though it was shot well, and a complete movie...it just wasn't anything special to stand out. This is not based on a comparison with the original either, since there were enough things changed in this to basically make it it's own movie and the film makers merely borrowed the movie title.

If you are not familiar with either film, both center around a group of criminals who end up abducting a couple young girls; raping them and killing them. Then these criminals get stranded and end up taking refuge with the parents of one of the girls. Once the parents find out what happened to their little girl, and that the people who did it are staying in their house; the hunt for retribution begins.

Remembering watching the '72 version, I was virtually uncomfortable during almost all of the movie. In the 2009 version the only thing that made me feel very uncomfortable was the rape scene. I don't think there's really any scene like that, that could be shot and not make someone feel uncomfortable.

Otherwise a decent flick, but nothing really new. You can see it, or not, and either way it's just another movie on the list of movies seen or not seen. Simple enough.