3/4

3/4

3.5/4

3/4

3/4

2.5/4

3/4

3.5/4

3/4

3.5/4

3.5/4

2/4

3.5/4

3/4

2.5/4

2.5/4

4/4

2/4

3/4

3/4

2.5/4

2.5/4

2.5/4

2/4

3/4

Next 18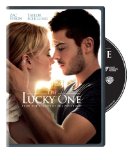 Lucky One, The (2012)
The Lucky One movie review
2.5/4 stars
Call me crazy, but I'm starting to think that Nicholas Sparks needs to either: A)stop turning his books into movies, or B) locate and keep on speed dial the person who was responsible for the screen adaptation of 'The Notebook', because frankly, you can only expect audiences to hope for a life changing love story so many times before they stop giving you the benefit of the doubt.

THE GOOD: A grown up and---if I may be perfectly frank---smoking hot Zac Efron plays Logan Thibault, a young Marine who has survived three tours of duty in Iraq, when many around him haven't been as fortunate. He believes he owes this miracle to the photo of a young woman—Beth (played by Taylor Schilling) that he stumbled across in combat. When his tour is over, he sets out to find her and thank her for saving his life. It's a simple thing to say, really, when he finally locates her, yet for some reason that's never quite clear, he can't do it. Instead he ends up working for her and her grandmother at the dog shelter and obedience school they own. By the time she learns about the real purpose of his appearance in her life, his explanation seems flimsy. Throw in Beth's bully of an ex-husband, Keith (played by Jay R. Ferguson), along with a steamy shower scene and Efron flexing his biceps as he lifts bags of dog food, and you have the makings of a great love story…..right? Well, not particularly.

THE BAD: I need to point out here that, although I don't always read a book before it's made into a movie, I did with this one…and that might have been a mistake, because I couldn't help but feel irritated at how WRONG they got it. The casting was pretty solid, although I never felt much chemistry between Logan and Beth---but that may have just been because I was thinking the whole time how much I would have like to play Schilling's part. But I suppose that's not integral to this review.
To be fair, I completely understand that it's not feasible to put every element of a book into it's film adaptation. But the main problem I had with this one was WHAT they chose to leave out. Throw aside some of the "beautiful scenery shots", cut out 2 of the THREE bedroom scenes (we get it—Logan is totally buff, but let's not run this thing into the ground), and for the love of all that is holy, PLEASE get rid of the cheesy line he mumbles to Beth about kissing that isn't even IN the book. But why they would choose to remove a key moment in the story that shows what a dirtbag Keith is escapes me. Tack a few extra minutes onto the movie and develop those characters so the dialogue actually means something when they say it.

THE UGLY: With Taylor Schilling and Zac Efron on the screen, there isn't a whole lot of ugly to be found, but some short scenes of domestic violence are certainly ugly enough to leave you hoping you'll see a ---with any luck, shirtless----Logan, swinging a shovel at Keith's big noggin.

For all the hype of this film being another "Notebook" or "The Vow", you'd have to be a pretty die hard Nicholas Sparks fan to actually compare it to either of those films. It lacks the charm and depth of either of those stories, which is a shame because there's nothing quite like a love story to make life seem more worthwhile. This movie just made my popcorn and diet soda seem a little more special.

The Trophy Wife gives this movie 3 trophies.

'The Lucky One' has a running time of 1 hr 41 minutes and is rated PG13 for some sexuality and violence.