3/4

3/4

3.5/4

3/4

3/4

2.5/4

3/4

3.5/4

3/4

3.5/4

3.5/4

2/4

3.5/4

3/4

2.5/4

2.5/4

4/4

2/4

3/4

3/4

2.5/4

2.5/4

2.5/4

2/4

3/4

Next 18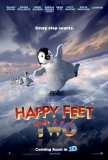 Happy Feet Two
Preachy Feet (A movie review of Happy Feet Two)
2.5/4 stars
If you are one of those people who avoid , like I do, movies that lure you in with the promise of pure mindless entertainment but end up preaching an underlying environmental message, then here is a little heads up: Happy Feet 2 is something that falls squarely in that category. Call me old fashioned, but I really like it when the people who create the animated movies don't try to insert their deeply held convictions into the storyline. Seriously, I just came to see some penguins dance.

THE GOOD: I need to be honest with you and admit that I am probably one of the few American parents who has NOT seen the first installment of Happy Feet. It's possible that, because I went to the sequel without seeing the one that started it all, I might have missed something that would have changed my overall opinion of the movie, but I'm going to go with my gut instincts here and say "I doubt it". What we have here is the story of a colony of penguins (or flock, or herd……I'm not sure the terminology is all that pertinent) living in the frozen wasteland of the Antarctica and the struggles they face because of---you guessed it---man made global warming and earthquakes. To be fair, I will say that the animation was breathtaking, the music was upbeat, the dancing was fun, and there is just about nothing cuter than hearing a cuddly cartoon penguin speak with the voice of a small British child. Robin Williams, who can sometimes be a little overbearing for some people in his human form (I've been informed of this by my husband who is not his biggest fan), is actually spectacular as a cartoon character's voice, and I applaud his ability to make me laugh in a movie that had far too few laughable moments. I also would like to note that I appreciated the underlying message that parents need to help their children believe in themselves and their own abilities to solve problems. That being said, what I REALLY would have enjoyed was an hour of that pure mindless entertainment I mentioned earlier.

THE BAD: Where do I begin? Obviously, I take issue with the fact that this was more of a public service ad for the plight of our friends the penguins than it was a feel good family film. In fact, there was very little feeling good going on, and some parts of the movie were frightening and slightly disturbing---watching an elephant seal plummet down a towering glacier in front of his small babies, penguins becoming so desperate to escape their own impending doom that they attempt to fly, only to fall from the sky like giant bowling pins. These are not scenes likely to keep your 7 year old amused or entertained. Obviously even animated films need some source of conflict in the story, otherwise it's just, you know, Shrek 3. But these kind of conflicts cross the line when you are marketing a film that's supposed be a family feature. When I take my kids to these type of movies, it's mainly because I am hoping to find something to entertain them, make them laugh, and just enjoy being a kid. I'm not looking to educate or indoctrinate them on world issues that give ADULTS nightmares. Movies about cute fluffy penguins should leave EVERYONE feeling upbeat and in a generally good mood. Instead, you get kids walking out of this thing with horrified faces and the newfound sobering reality that the life of a penguin kind of sucks---thanks to the adults in their lives, as an added piece of good news.
Also, I am probably one of many, many women who believe that Brad Pitt can make just about anything better simply by showing up…..but not this time. And it's not that he didn't do an outstanding job of playing the voice of a piece of krill, as did Matt Damon (Will and Bill the Krill, respectively). But these characters in the movie were about as pointless as a white crayon. The only purpose they seemed to serve was to, once again, push the environmental agenda. I hope all the kids in the theater walked out of there feeling a little more enlightened about the serious plight of our world. No sense wasting a matinee with pure fun when you could have the added benefit of a lesson in climate apocalypse.

THE UGLY: I mentioned it before but it bears repeating---as weird and grotesque as elephant seals are, it was even worse watching one fall off a cliff. He kind of grew on you with his Australian accent (funny, because we are in the Antartic here, and yet we seemed to have a plethora of different accents coming from every direction---no doubt another commentary about how even penguins have their own melting pot and they have learned to coexist) and the fact that his babies sat and watched it happen seemed a little too intense for a movie with the words "Happy" in the title.
As a disclaimer I'd like to point out that I am not against ANY movie having teaching moments, and delivering messages that actually attempt to make us better people and provide a better world. I don't limit myself to movies that allow me the luxury brain "down time"---but there's a time and a place for sharing your agenda with people. That time is not with small children, and the place shouldn't be in a movie about dancing flightless fowl.

The Trophy Wife gives this 2 ˝ trophies.

Happy Feet 2 has a running time of 100 minutes and is rated PG for some rude humor and mild peril.