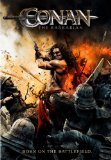 Conan the Barbarian (2011)
A street walking cheeta with a heart full of napal
2/4 stars
Jason Momoa is not Arnold but then again who really wants to be these days anyway?

A new spin on the classic Robert E. Howard material. Visually the film is quite fantastic the locations photographed beautifully. Jason Momoa on the other hand at times i felt didn't physically have the build to be as intimidating as one tends to think about when drifting into the either about barbarians.

The film is quick perhaps too much so. Maybe just maybe this film shouldn't have been called Conan The Barbarian at all but Conan of Cimmera's bogus journey, I feel like we got into a phone booth and skipped over some important and interesting stuff.

All in all Conan The Barbarian is a swift action filled boot to the head, love it or hate it but it's here.