3/4

2/4

3/4

3/4

2.5/4

3/4

3.5/4

3.5/4

3.5/4

1/4

3/4

3/4

3/4

1.5/4

3/4

3/4

2/4

3/4

3/4

3/4

2.5/4

2/4

2.5/4

2.5/4

2/4

Next 25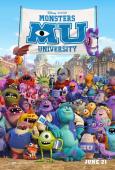 Monsters University
Prequel that has some refreshing elements
3/4 stars
It is party time! A prequel now! Monsters University has come onboard by Pixar and Scanlon. Pixar knows Scanlon as their story artist since Cars and Toy Story 3. Now he has a big job. He has to direct a prequel of Monsters Inc. For those who have watched Monsters Inc, there are no big surprises, as we know that both Mike and Sullivan are the best friends. But now they are in the university, to scare people. Hey is this necessary? I am doubting too much on this question. What's the point of this prequel ? Monsters University is made for money. I am serious folks. No joking here. Did Pixar believe that all might have not seen Monsters Inc? If then, Monsters University should have come first and then Monsters Inc would have made it somewhat better. But vice versa does not quite work. But don't worry, Monsters University still entertains. That's what summer is meant for.

The famous voices are back again. Here we go to the University designed more similar like the legendary universities of real life. Mike and Sullivan are not the best friends at start. What makes them together and develop their trust, happiness, sorrow and finally learn an important lesson in their life is all in this prequel. The real hardcore children fans of Monsters Inc (Everyone loved it), really are for a treat again. Viewers can rest and watch the crazy glowing urchin race, to the simulation scare games. This is pure children stuff. Probably a little mature, but nothing to worry it does the job well.

Generally pulling a prequel out of nowhere is difficult. That's what happened to The Hobbit (Prequel to the Lord of the Rings). But it did win huge box office numbers. So will be Monsters University. A real winner as an animation film (Splendid visuals, crazy and at times goofy creatures and no so scary monsters), but Dean is dangerously creepy. I admired the sincere attempt made by Pixar and Scanlon, without stuffing too much of sub plots. The whole theme of the film is to learn to live and be the best at what you are. They did prove it here.

I could give it a worthy note, if this would have come before Monsters Inc, instead of being a prequel. But anyways, it is fun filled and has the right texture of elements that every child likes in such films. Parents can take their children to this film. Not quite impactful enough, but has me smiling for its efforts. I might consider giving it a mid mark between pass and ace. Hence I conclude Monsters University is a mid ranked film for me. But still I love those characters and I give a clean score for its sincere attempt without going overboard.